We are pleased to offer our first GIS short course. To learn more about the course click here LiDARclass.pdf for a course flyer.
Course Title: How to download LiDAR files and process them in ArcGIS to make a high resolution bare earth Digital Elevation Model (DEM).
Software Required:  ArcGIS 10.0 and 3D Analyst extension (visit www.esri.com for evaluation software).
Course Cost: $25.00 (if you are interested please click the PayPal Add to Cart button and send us an e-mail).
Course Description: Iowa has acquired LiDAR data statewide. The Iowa Geological and Water Survey have available to download already processed DEMs from the raw LiDAR data at a 3-Meter resolution. One may want to process their own DEMs at other resolutions to bring out subtle elevation changes. This course shows the student how to download LiDAR files and process them in ArcGIS 3D Analyst to create their own DEMs and also how to view those DEMs as 3-dimensional surfaces in ArcScene.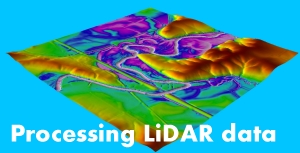 Once you have made your purchase please e-mail us at cagoings@rollinghillsconsulting.com to ensure you have access.